Our diverse underwear styles share a commitment to sustainability, featuring GOTS-certified organic materials and gentle, low-impact or azo-free dyes. We cater to even the most sensitive kids. Explore our styles and their unique features to find the perfect fit for your family. 
Made from 95% organic cotton and 5% spandex for the perfect stretch and fit - Better for the planet, better for laborers, and better for your family.
GOTS "Organic". Certified by Ecocert Greenlife. 256894 Q for Quinn Inc.


Non-toxic, azo-free dyes — Some azo dyes (also known as direct dyes) can break down and release chemicals called aromatic amines, some of which have been shown to cause cancer. We use only non-toxic, environment-safe dyes that have no risk of degrading and releasing harmful compounds.


Care: For longer-lasting results, wash cold and lay flat. ← 

Too busy for all that? We got you, Mama.

 Just wash cold and tumble dry on low heat.  
This product is certified by GOTS. 
We ship from Toronto, Ontario to the USA and Canada.
Flat rate Expedited shipping to USA: US$8.5, usually 2 to 8 business day

Flat rate Expedited shipping to Canada: C$9.95, usually 2 to 8 business days. Major cities within Ontario and Quebec - 2-3 business days 

Flat rate Shipping to United Kingdom - England: US$18, usually 6-8 business days. 



International shipping: We ship to select international countries at a flat rate of US$15. Shipping time varies but can be up to 60 business days. We thank you for your patience. 
Shipping is FREE on orders over US$75 / C$95. This refers to Expedited Shipping for Canada Post and First Class USPS for USA. Shipping is 2-8 business days.
 What is Shipping Protection?
Q for Quinn provides protection for shipments that are damaged, lost, or stolen. Add Shipping Protection to your cart at checkout to enable protection. 
For any claims please get in touch with us at hello@qforquinn.com.
For damaged shipments, photos will be required. 
For lost and stolen items, we typically give 10 business days before a claim can be made, as sometimes the package is simply misplaced and it shows up!
Please note if shipping protection is not selected, Q for Quinn is not liable for any lost, stolen or damaged goods. 
Maximum value of goods that can be re-shipped is $1000.
 "Why do I have to pay for shipping? I'm used to getting free shipping!"
While we offer C$9.95 / USD $8.5 shipping on orders under C$95, it REALLY costs us closer to C$12 on average to ship within North America. We know it sounds crazy — but we pay the difference out of pocket so that we can offer the best flat rate to you!
It's tough being a small retailer (we are just 3 women!) up against the "free shipping movement" of our bigger competitors. But we're doing our best, and we're grateful for your understanding. 💙
How to Make a Return or Exchange
We want you to be 100% happy with your purchase! If for any reason you're not thrilled, please get in touch with us here or send an email to hello@qforquinn.com. We'll do our best to make it right. Please note specific terms below. 
To make sure you get the right product, we recommend that you refer to our size chart before purchasing. Returns and exchanges are not only costly for our small business but also for our planet.
Extended Holiday Exchange and Returns Period:
All purchases from November 1-December 31 qualify for an extended 3 month exchange and return period with the exception of any sale items of underwear. 
Please note: 
Our 1st Pair Guarantee: Order one pair of our women's underwear to try and if you don't love them, let us know within 30 days and we'll give you a store credit for the same value. Not so fine print: Limited time offer valid on first pair of women's underwear only, maximum store credit value $24 USD / 29CAD. 1st Pair Guarantee is not valid on bundles or children's underwear.
For hygiene reasons, we can't accept returns or exchanges of our underwear.

Other items should be in their original packaging for returns or exchanges. 

All items on sale are final sale. 
If you'd like to return or exchange items within 30 days of delivery date (90 days for holiday extended period), please get in touch with us here or send an email to hello@qforquinn.com. Any return shipping charges, original shipping charges apply. We are a small business and it costs us on average $13 to ship in North America. This cost is not included in our pricing and hence we are not in a position to offer free returns and exchanges.
Ryan Boxer Briefs are made from a 100% organic cotton fabric. Luca Boxer Briefs are made from 95% organic cotton, 5% elastane fabric for more stretch.
Erin Hipster Briefs are made from 100% cotton fabric and has less stretch than Sophie Hipster Briefs - made from 95% cotton and 5% elastane.
Free from harmful chemicals.
Every pair of our cotton underwear is certified by GOTS - the gold standard for organic textiles. Our facilities and materials are regularly tested and proven to be free of over 100 harmful substances and chemicals.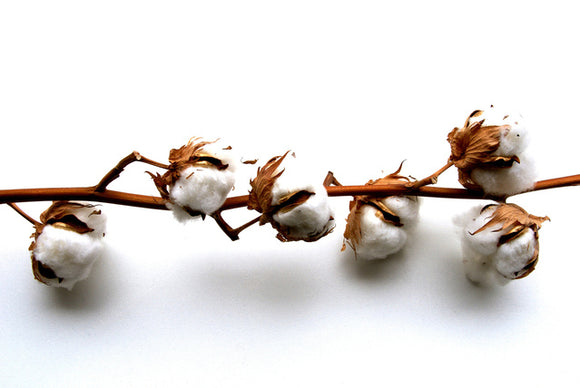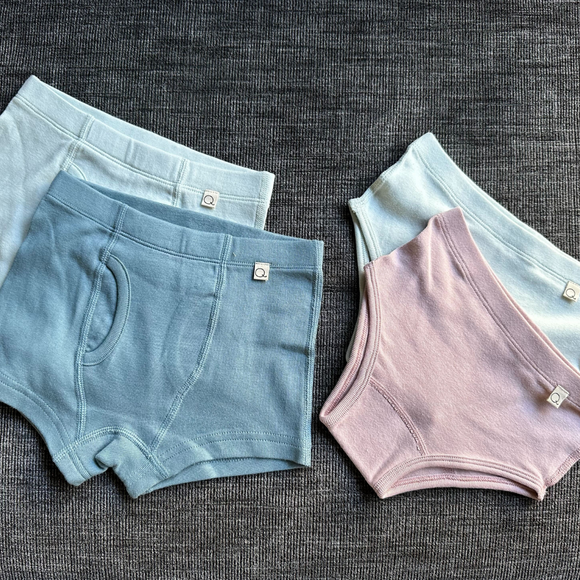 The kind they'll wear all day, everyday.
Flat seams and butter-soft fabrics make our underwear so comfortable that parents wish they came in their size!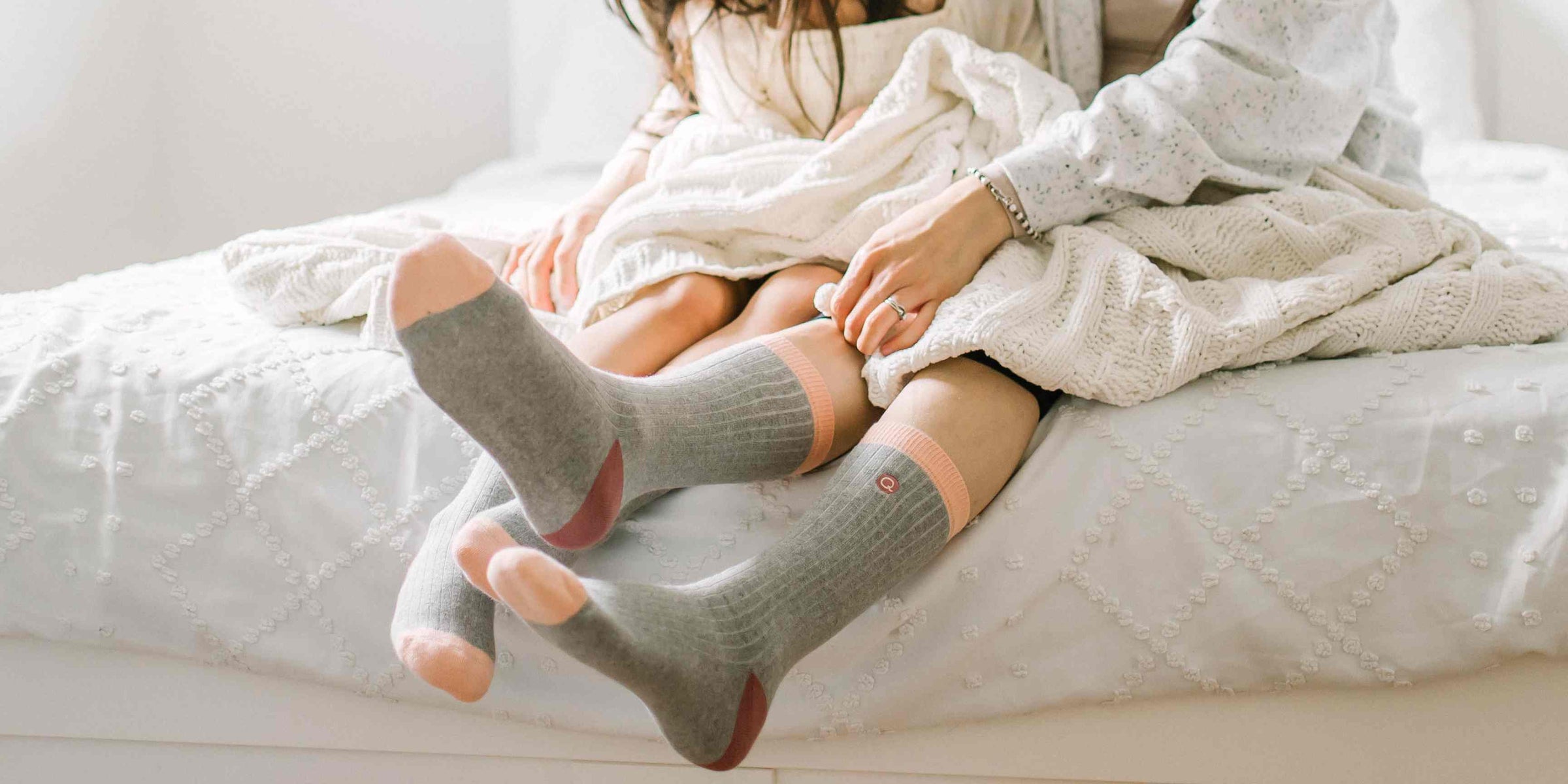 Our Story
It all started with socks for a baby boy who suffered from eczema.
Today, we are redefining everyday comfort and wellbeing by creating basics that are gentle on our skin and our planet.
learn more
1 Pair = 1 Meal
Each donate school meals with every item sold.
Toxin-Free
100% free BPA, Parabens, Formaldehyde, Lead & Other Toxins
Our Guarantee
Every one of our products is made with the highest composition of natural, organic materials without compromising on fit, comfort and longevity.
High quality & comfortable
I bought the light blue and green briefs. Fabric is not thick, and although great year round, especially appropriate for spring and summer. They are high quality and do not fade or shrink after multiple washes.
Thank you, T.C. It's fantastic to know that the high-quality and durability have met your expectations, with no fading or shrinking even after multiple washes. We aim to provide products that stand the test of time.
My son's favourite underwear
He's had Hanna Anderssen and Bloom underwear too. When I asked which was his favourite, he picked these! He's a skinny but athletic 10 year old and the 8-10 size fits perfectly.
Thank you so much for the positive feedback, Katie! We are delighted to hear that your son loves the underwear. ❤️
Great comfort and fit
My son is thin for his age so we buy the size down from his age-size. They are a perfect fit, not too tight, and he loves them!
Amazing underwear!
These are my daughter's favourite style of underwear. We've had a hard time finding comfortable fitting undies that have good breathability. But these are perfect!
Thank you so much! We so happy to hear this and thank you for taking the time to write us a review.
Very cute
These are very cute and very soft and my son loves them! They are probably a size too big he's wearing them all though and I will keep them and buy a size smaller
Thank you so much for purchasing with us and supporting our small business!
Comfortable briefs
I bought the Ryan boxer briefs for my 3 year old grandchild with sensitive skin. Great comfort and quality.
Hi Deb, Thank you so much for purchasing with us and for taking the time to write us a review.